Almost all books are available on the Kindle store as well as in print: some are only available on the Kindle store. Full-length novels are available in print format from the House of D page on Lulu.com
Novels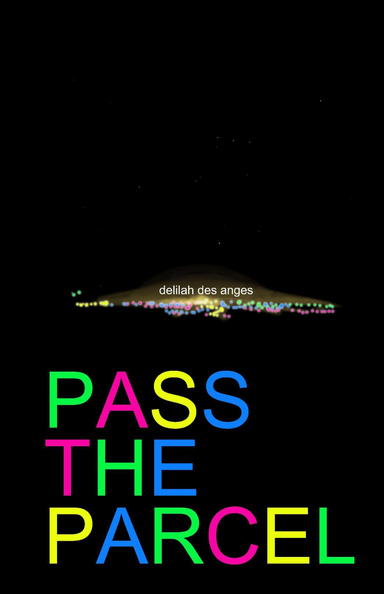 PASS THE PARCEL: The world is populated by everything from humans to Artificial Humans, but speciesism runs rampant. Everything that can go terribly wrong does; and while it always comes back to Brazil, it all seems to be going down in London, which is a seething pot of conflicts and crossed wires, as new lies are told and old ones resurface; as old murders are recalled and new ones committed; as history is rewritten; and as a very ugly but potentially extremely powerful statue is passed from wrong hand to wrong hand. Featured in the Guardian.
THE OTHER DAUGHTER: Polly Mazlowczy has returned from a fictitious conflict in North Korea a changed woman. Just how changed, her strange and insular family and the people of an isolated Midwestern town are about to discover. The Other Daughter is a revenge tragedy of the old school given a modern twist.
PROTECT ME FROM WHAT I WANT: When a 40-year-old cold case opens unexpectedly on a sleepy island, John Hennessey (perpetually-on-the-brink-of-being-fired) finds his past comes back to haunt him, too. (Literary Fiction)
BROWN BREAD, BOYS:
Craig Williamson, gang leader and charismatic lunatic, is at the top of his game, having murdered his main rival; but the celebrations have barely begun before his lieutenants are plotting his downfall. At least the police are no closer to understanding the ancient and terrible blood magic the gang is using… unfortunately, neither are the gang.
AS SIMPLE AS HUNGER: Non-occult engineer Hajar Al-Fihri is about to find herself dragged into a world of intrigue, mystery, exploding ornithopters, intelligent parasites, and some Very Large Arthropods. Right now her only problem is that her colleague and friend Benjon is, in all probability, about to swear on the wireless again, but that happy state of affairs cannot last. This is, quite simply, the fantasy fiction saxonpunk universe with giant bugs and zeppelin cities to end all fantasy fiction saxonpunk universes with giant bugs and zeppelin cities.
THE NEXT BIG ONE:
With the number of UK cases hitting a hundred, it's clear that KBV is a problem which isn't going away. Downing Street have released the following statement: "The total number of KBV cases in the UK is still comparatively small, and we are confident that the disease can be contained. NHS leaflets advising on lifestyle and behaviour changes which can help protect against infection will be available soon. We ask the public to remain calm and to continue to behave responsibly about their health in all areas.
Vocational journalism student Ben Martin is the last person who ought to be investigating a major viral outbreak. He doesn't know a single damn thing about biology; he pays his rent by DJing for hipsters. He's nervous, easily-discouraged, and not over his ex.
But it's him who ends up with the assignment, and it's him who ends up facing down the truth: there is more to this than meets the eye.
THE CIRCLE: The year is 1900. An Earl, an engineer, a suburban philosopher, and an enigma meet at University and make a pact to learn the art of conjuring. But nothing among the friends is quite as it seems, and soon the happy four are plunged into worlds of political activism, crime, despair, sordid trysts, and a Faustian compact which seems set to threaten their very lives, one by one…
HEAVY: What if not only everything you knew about yourself was wrong, but everything everyone else knew about you was wrong too?
Pig is in hell. He's been in hell for the twenty years since half a continent was atomised; since his own ignominious and contentious escape from a fate that never came; when a face from his past comes offering alleviation, he inadvertently drags behind him a young revolutionary, an extracted spy, and an admin assistant way out of her depth on an unexplained mission that will take them across the world, and which may well solve nothing at all…
"I'm always pleased to see Derek Des Anges writing, with his acute understanding of the horror we do to each other and the tactics we take to survive it." – Kieron Gillen (Wicked + Divine, Darth Vader)
ARCHITECTS OF THE FLESH: A rogue surgeon is about to be offered the opportunity of someone else's lifetime. An artist's model and aristocrat's mistress is about to discover even seedier underbellies than she's ever dreamed of in her already troubled imaginings. Elsewhere, righteous fury is brewing beneath the streets of the city, and almost every single horror has the stamp of one mysterious man upon it. This is London as you've never seen it before and hopefully never will again: a world where Lamarckian inheritance is real, where nightmares and desires are satisfied with the flick of a surgeon's knife–if you can afford it.
Novels as Melissa Snowdon
THE BREAKING OF M (KINDLE ONLY) Matimeo Calvisia, spy and rake, finds himself in 16th-century Venice and faced with an apparently insurmountable challenge: the widely-read but narrowly-lived Padre Vito Bonifatigo is calling his credentials into question. The prickings of Matimeo's pride lead him through a moral maze and dog him all the way across the Atlantic, but sooner or later something has to give…
THE CURIOUS CASE OF THE FIRECROTCH: Wilberforce Kemp is a private detective. He's not especially good at it, and he has a drink-chugging demon to keep fed, but he's a private detective all the same and that means when a beautiful red-head comes into his decaying office and pays him to dig up a missing boyfriend, it's his job to find the guy… even if he kinda wants the red-head all to himself. In a case that will bring him elbow-to-elbow with all the low-lives he's been drinking to avoid, Wil Kemp is up to his neck in trouble all over again. This pastiche of the hard-boiled detective trope brings romance and sarcasm a-plenty. With Dionyisia Hill.
TAME: Lesbian rom-com/chick lit. Julie Holms has it all, if "all" means living in the shadow of her beautiful best friend, her obnoxious sister, and her bewilderingly-obsessed-with-wheatgerm Mummy. She's got an eBay habit, a wardrobe that occupies dimensions bigger than her flat, and a coat everyone in Marketing thinks is very Last Year, but her life is about to become far too exciting by way of mysterious strangers on rooftops, That Cute One From Marketing, and possibly one or two things she thought only happened in the movies. As "Melissa Snowdon".
ABOVE DECENCY: When Jack Campbell joins the airforce his only thought is to fly more, do his duty to his country, and escape his own thoughts for a few glorious hours in the air. And then he meets one H Fuller, and discovers that his heart, too, has wings. Less of a historical romance, more of a romantic history: a fantasy of queer romance during war time.
Anthologies as an editor
Contributors include Sunny Moraine, Cosima Ekman, Addy Pugh, Amy Bennett, Megan Fennell…
HELP: TWELVE TALES OF HEALING: Help: everyone needs it from time to time and Medecins Sans Frontieres provide it to the people in the world who need it the most. Twelve Tales of Healing is an anthology of twelve (and one spare, in case you need it) stories about getting better by thirteen different authors; some established, and some brand new. All profits from the first sales of Help: Twelve Tales of Healing went directly to Medecins Sans Frontiere to help them to help those who really need it; as it is no longer possible to track profits from this book, I am making set-quantity donations to them periodically, and urge you to do the same.
Anthologies as a contributor
BETWEEN THE SHORES (New Smut Project): A volume of literary erotica centered around the possibilities of sexual negotiation.
Twenty complex, surprising, intense, and relatable stories from a spectrum of new and established writers explore something unusual in erotic fiction: someone saying no. Submissives—and dominants—safeword out of a BDSM scene. Couples (and one threesome!) discover the possibilities and boundaries of their new relationships. Past trauma rears its head. Personal preferences clash.
Between the Shores shows respect for the boundaries people set as an integral part of sex, and highlights trust, communication—and mutual pleasure.
Some call a halt to the action. Some proceed with care and caution. Some bare secrets to their partners that they've never before shared. And some find exciting alternatives. Through negotiation—whether serious or accompanied by laughter—they move beyond their "no" to reach what they truly desire: healing, growth, and fulfillment both sexual and otherwise.
(Contributing under the name "Melissa Snowdon").
PICK YOUR POISON (Owl Hollow Press): Poison comes in all shapes and sizes, often resting in that murky, gray area somewhere between too much and too little, between right and wrong. Some poisons help; some poisons hurt. Some do both in the proper doses. But one thing is certain—whether good or evil, figurative or literal, fact or fiction—we can't escape its potent charm.
Throughout this anthology, poison takes many different forms, both literal and metaphorical, in a wide variety of genres and styles. And they're all yours to enjoy. So go ahead. Pick your poison.
(Contributing under the name "Derek Des Anges").
A FOOL FOR YOU (Less Than Three Press): Sussicran: A Love Story by Melissa Snowdon—Eager to escape an otherworldly bet, mirror demon Llednew determines to steal the life of a lonely young man. But executing his brilliant idea proves to be more difficult than anticipated.
(Contributing under the name "Melissa Snowdon").

VULTURE BONES # 5: The Invention of Terms by Derek Des Anges—In a culture that's rapidly outgrowing its roots, the census grows more difficult each time. This time there's a new problem to face: how to describe the people who don't fall into one category or another… and what to do when you discover you've been working alongside one of these outcast people for years without ever knowing?
(Contributing under the name "Derek Des Anges").
Individual Short Stories
These are available on Kindle only, although in some instances there may be other eBook formats available on the House of D Lulu page.
HANNAH MATCHMAKER'S NEW SKATES (KINDLE ONLY): Short story: Hannah Matchmaker is struggling to make progress as fast as she'd like at Rollerderby, until she gets her hands on some new skates… A story for fans of Rollerderby who are already pretty au fait with the jargon.
SAINT GRIMBALD'S MEN (DIGITAL ONLY):. Comes in Kindle and ePub formats. A short body-horror story set in a monastery, where one troubled young novice has just begun to experience unsettling and apparently untameable desires.
VESSEL 151-B (KINDLE ONLY): A short story set in space. Calvin wakes up alone in an intergenerational space flight that once held his entire civilisation, and tries at first to make sense of this, then to cope with his loneliness.
THE RENAKA DEVICE (KINDLE ONLY): My name is Potsve Revolution Renaka.
I was born a month after the fall of the old order. In celebration, my parents named me Potsve Revolution. (Dystopian fiction)
THE TRAITOR (KINDLE ONLY): Companion piece to The Renaka Device (above). Twenty years after the Revolution, the journalist Shukach Istynyya is permitted to speak with the Revolutionary Republic's number one enemy, in a once-in-a-lifetime interview. "It might be any man within the cell that I am brought to face, but the Party is honest, and the Party is just, and the man in the cell is called Lubach Zahradnik, and he is The Traitor."
IN THE TRENCHES (KINDLE ONLY):
Deep sea exploration engineer Euan navigates the various tensions aboard a vessel which houses both those interested in the future of the oceans' wildlife and those only interested in profiting from it, and on dipping below the waves discovers that they're not the only ones with an interest in the contents of the abyss.
Individual Short Stories as Melissa Snowdon
IL POMPINARO'S APPRENTICE AND THE WITCHCRAFT OF THE INSTANT PAINT (KINDLE ONLY): Inspired by a contemporary art world scuffle, this erotica/romance short story tells the tale of a Florentine painter and his young apprentice and lover who fall out over a special type of paint…
PANTSGIVING (KINDLE ONLY):
David Winthorpe meets Simon Beckett off his flight home with a special gift in mind. Things don't entirely go to plan, but that's okay. Short gay erotic fiction from the author of The Breaking of M, and Tame.
DECK YOUR BALLS WITH FANCY PANTIES (KINDLE ONLY): Consider this another installation in the Pantsiverse, begun with "Pantsgiving" by the same author, despite featuring none of the same characters. Schoolfriends Richard and Jack have ascended to university, and finally have control over their own finances: this is a bad idea and is going to lead to crimes and homosexuality.
Poetry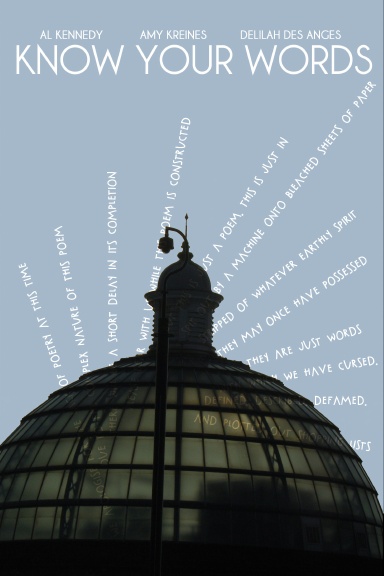 Know Your Words is an anthology of poetry written within the last five years by newcomer poets Al Kennedy, Amy Kreines, and Delilah Des Anges.
For The Love of a City: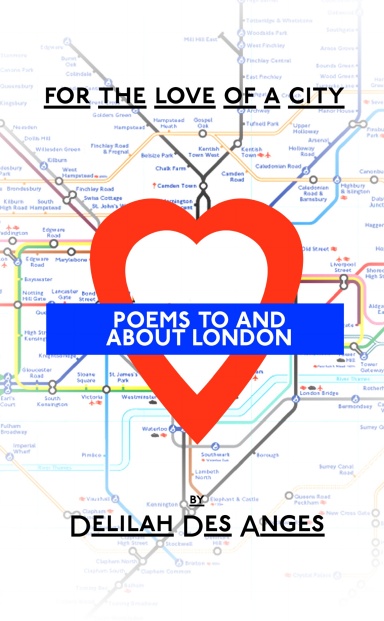 Poems to and about London by someone who has been conducting a decade-long love affair with the city.
Shots in the Dark: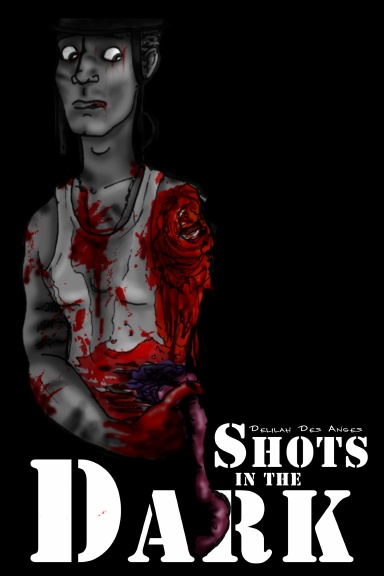 An illustrated narrative poem, with eldritch horrors and war. An American platoon, lost in the Vietnamese jungles, find that something is waiting for them.
Year of the Ghost & Mortuary Remains
Collects the poems of 2011 and 2012 and is available in print, Kindle, and PDF (by emailing me). Covers topics as diverse as the history of disease in London, the life cycle of universes, minimalism in art, and a survival tactic for the chronically depressed; the effects of revolution, love, death, the London underground, and the physics of sound.
Interrupted Verse: Collected Poetry 2016-2019: Collected works of poetry 2015-2020; covering diverse subjects from English history, science, grief, marriage, space travel, atheism, nihilism, hope, and as always the joys and sorrows of urban living.
Non-Fiction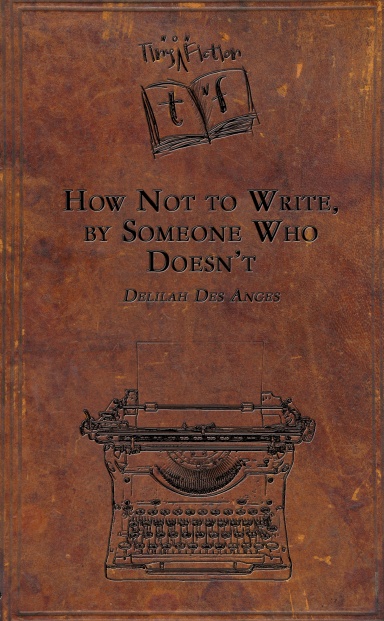 HOW NOT TO WRITE BY SOMEONE WHO MOSTLY DOESN'T: This is a collection of rants, essays, lists, and other marginalia and arguments relating to the awfulness that is attempting to write novels, short stories, and poetry. You fool! Put this book down and back away slowly. It is not for polishing your ego at all!
Comics
KISSING CARRION: Early collaboration with Gillian Blekkenhorst of Suburban Mythology: a missing girl, and a very strange private detective, in Regency England. (2004)
THIS TITLE HAS BEEN DISCONTINUED BY THE PUBLISHER. I am not able to reverse this decision.