That should cover the basics, I feel. I'm not a fan of making big announcements but as I made a song-and-dance about the last name change and this one is rather more important, it behoves me to at least have a hum and a shuffle about this.
For very few remaining people this will come as a surprise. The majority already know. I'm in the laborious process of flitting between private and NHS healthcare at the moment, trying to secure prescriptions and surgery, and spending a lot of my free time doing daft-looking and daft-sounding exercises to help shape my muscles and vocal chords so that strangers stop referring to me as "she" and making me feel like crap.
It should be noted that my friends have been exemplary about this, with almost no habitual slip-ups and immediate corrections. Not one of them has questioned whether I mean it, and not one of them has flounced off in a transphobic huff. I've spent years and years filtering out the arseholes from my social circles and it has paid off
In my job I read a lot of news articles, and it gives me the unparalleled opportunity to see how the narrative of transitioning, which seems to have been cemented in place a long time ago and which requires a fairly rigid set of boxes to be ticked, is usually told. It's also given me the opportunity to see that while the media is pretty obsessed with trans women (whether deriding them, fetishing them, or actually managing to be respectful) there are still not very many mentions of trans men. There were even fewer mentions when I was younger, which I'm pretty sure was a contributing factor in me being blissfully uncomfortable and incapable of actually putting a name to what was wrong for so long. A list like this one might help, might have helped.
There is a traditional narrative of transition, of early discomfort, cross-dressing, and dysphoria, disaffection with social gender roles and clothing, culminating in a lightbulb moment. There are a few hiccups with that smooth narrative: cross-dressing is not necessarily linked to gender roles, clothes don't really have their own gender, and thanks to tireless campaigning by women's dress reformers in the 1800s and early 1900s, it is not exactly outre for women to wear trousers or suit blazers. Unfortunately for men who like dresses, Eddie Izzard has not had the same degree of success in ungendering the frock and lippy.
The bounds of gender are also elastic. If a cis woman can be butch, a tomboy, etc, without compromising her gender identity (and she can and should be allowed this), then why should a transgender woman not be allowed this? If a cis man can be a drag queen (and God be praised many are, drag queens are an element of entertainment culture I never, ever want to see pass away), or a metrosexual, or David Bowie, why can't a trans man have purple eyebrows and a latex dress?
Discomfort with gender roles is, I've noticed, hardly restricted to transgender people. Straight, cis, male friends complain tirelessly of being boxed in by expectations of masculinity. The angry demand that women be allowed to damn well do anything that men do (including really stupid and damaging things) has been heard with increasing ferocity and eloquence for over a century in the UK alone.
Early discomfort is … well, it's hard to separate from discomfort with other things, a factor which seems to be largely ignored in the WPATH standards of care. I was raised in a proudly and profoundly second-wave feminist household. Since the moment I could form sentences I have been aware of a) the millstone of partriarchal impositions on women's bodies, b) the role of the partriarchy in suppressing women's achievements and c) the phrase "internalised misogyny".
In a world where a bleak division continues to be perpetrated between the power held by women and the power granted to men, is it really likely that every transgender child can tell the difference between being piqued that they're prevented from having a pink doll or furious at being forbidden football for reasons of generalised unfairness and the stirrings of social dysphoria? We only have hindsight.
Physical dysphoria (as opposed to social dysphoria) which is not a requirement for a non-cisgender identity, is more concrete. And so we'll begin my Classic Trans Narrative with that.
It is a curious thing to look back over the experiences of your life and realise that your uncategorisable weirdnesses, over which you've experienced shame, guilt, anger, and a sense of dislocation from yourself so deep that you're still plagued by doubts that you exist at all, and find that you are, in fact, categorisable. To turn to other people who have had similar experiences and find that they fit, to a degree, within an existing framework of which you've been utterly ignorant. To go back and fit the disjointed, glaring moments and current of Wrongness into an actual picture which, viewed from the position of already having the answer, suddenly and finally makes sense.
A bit like a historical Magic Eye Picture.
If I was preparing a slideshow I might, for example, include childhood instances of trying to create an STP harness out of a toilet roll tube. I might mention the virulent jealousy of my male best friend and his stupid weird testicles when I was 7. Children are weird, naysayers would say. I might mention the utterly alien experience of female puberty, bringing with it the start of no longer feeling as if I was in my own body – a sensation which has sent me through all kinds of risk-taking behaviour, depths of despair, unwanted pregnancy (why care about contraception when you barely believe it's you having the unprotected vaginal sex?), eating disorders, obesity, self-harm, and a long-term indifference to my own survival. Internalised misogyny, naysayers would desperately reply, on being faced with these Powerpoint slides.
It is also curious to think that the answer was so flatly denied with such a contradictory blend of "everyone feels like that" and "you're weird". Make up your minds, Society!
Physical dysphoria takes many forms (please note 2). For the most part I've been lucky. Feel revulsion and discomfort would require a sense of association with my body and over a decade of starvation, substance abuse, shitty behaviour, and just plain continually distracting myself has stopped that nonsense. Getting back in contact with myself – mainly through exercise and testosterone – has been, to put it mildly, frightening. Having a damageable human body instead of a vague idea that something I don't like will be got rid of if I get hit by a truck is something I'm still adjusting to.
That feeling of alien disconnect was so pervasive, so normal to me, that I didn't think it worth investigating, after a while. Internalised misogyny. A refusal to Play Nice With The World. My mother, working within her own framework of beliefs which include some interesting approaches to reincarnation, decided that I "didn't want to be on the Earth", which is hardly a perceptive leap after your only child has persistently attempted suicide and spends most of their time lying down or bleeding on things while crying.
It remains difficult to talk, or think about.
For the sake of the Narrative, let us assume there was one lightbulb moment, instead of a series of ever-increasing lightbulbs hastily switched off for fear of being ridiculed, accused of attention-seeking, and dismissed by all and sundry. Let us not compare the road to openness about gender with my progress to the same with sexuality, where I did the fucking Closet Hokey-Cokey for a decade and still operate, largely, on a need-to-know basis where I judge almost everyone as Not Needing To Know.
Let's. It's true. I've wandered back and forth on pronouns, accepted my position and rescinded it, panicking at the breadth of the implications and the apparently insurmountable obstacles, convinced the response would be the same: You're Making It Up. And let's, for a moment, regard with outright suspicion the people who believe that wanting to keep elements of one's life and identity private, or not wishing to disclose, for example, the content of one's underwear to hostile arseholes from every walk of life, means one is not sincere.
And let's also talk about wishful thinking, the main outlet for someone too fearful of rejection to actually pursue the increasingly obvious: an avowed atheist, I've lobbed pennies in wells, made wishes on candles, submitted prayers at Sacre Coeur on a Christmas Holiday, sought out shooting stars, made weird bargains with the universe where on a set time and date (compliant with what I was raised to believe: manifestation, and positive thinking. Turns out, by the way, you actually have to do something instead) I would just wake up and everything would be fine. No more heinous female body. No more womb torment, no more stupid voice, and could I maybe please also grow six inches?
The universe, unfeeling and indeed non-cogitating bastard that it is, has not obliged me. Thankfully I've never been nuts enough to think that what it wants from me is human sacrifice, because I'd have been willing.
Why now?
This is understandably a question I've been asked a few times by medical professionals. They are required to ask, and if I've been effectively sitting on a suicidal ideation landmine for 30+ years the question of "why now" does seem pertinent. There are a lot of factors: the presence of the Resident Australian and the sense of security and stability in my home life has helped enormously, as has the increasing number of transgender friends I've amassed who are, by virtue of who they are, more inclined to take me seriously. Media concentration has made it less likely that I'll be met with total bemusement; indignant support by acquaintances for the gender identity of Chelsea Manning (for various reasons the fact that this is a Wikipedia link is highly ironic) was a boost, as was the delighted reception of Laverne Cox into the public eye.
Also, and less pleasantly, people have persistently been dying – in 2011 a series of friends and acquaintances committed suicide, in 2012 two deaths occurred in my family in the same week – which despite a long and by then almost-habitual familiarity with suicidal ideation and an indifference to my own survival, did also give me the impetus to think about how everyone else conducted their lives.
Namely, right up until those friends lost their grip on the battle with their own mental health, and until those family members no longer had the physical wherewithal to keep kicking death in the bollocks, none of them had to my knowledge spent their entire lives hiding under a rock and drifting into and out of things without my sustained enthusiasm because they felt like a shadow of a person. In fact, they'd done the opposite – pursued their interests and passions with zeal and vigour, and in every case the world will be the worse for not having them in it. I wasn't sure the same could be said for me.
The same very much cannot be said for me, in fact. A lack of confidence has dogged me most of my life. I've walked into achievements with the blunt sense that I don't deserve them and that they belong to someone else. The BA I earned was an aberration. The literary competitions I won were probably a mistake. The relationships I had were just because people hadn't realised I was a fake. And so on. I pursued almost nothing, I settled as quickly and as easily as I could and tolerated things that should not have been tolerable to anyone simply because I couldn't bring myself to care about them. My body wasn't right, I wasn't right, so what did it matter if I did or did not go anywhere in life?
Flitting in and out of unemployment and bashing out books did give me a chance to consider this, too. What exactly was I avoiding in not doing anything about a problem that was destroying me, body and mind? "Things might be terrible?" Things were already terrible.
As I said, I've never been a terribly motivated person. If there is even a sliver of doubt in the likelihood of me getting to point B from point A I hang back and don't get off the sofa. There was no guarantee that I wouldn't do with this as I had with, say, my attempt at a career change five years ago, when I chucked some redundancy money at getting an HNC in Music Production: pursue it enough to get over the quantifiable hurdle (I passed the HNC with a Distinction because if there's one thing I am it is painfully, pathetically academically competitive when I already know I'm doing better than the rest of my class)  and then abandon it as too hard, requiring too much interaction.
That's another thing, by the way. When you live your life in a constant fug of Wrongness and misgendering you don't really want to interact with people very much. It drains the living shit out of you because you're having to realign yourself, continually, to a gender that's not yours, and rise above feeling like utter pants in order to communicate/remember how to perform that Not Your Gender.
I lined up all the possible objections to my transition and started to tackle them with a determination I had no idea I actually possessed.
I was worried that, being a long way "obese" on the BMI scale when I went to see my GP, I might be refused treatment on the basis of physical health. Testosterone raises the blood pressure and cholesterol, and both are associated also with elevated weight. As it happens, my cholesterol levels were entirely fine and my blood pressure was "surprisingly good" for someone of my total lack of fitness and dislike of being in a doctor's surgery talking about My Feelings.
But I didn't want to encounter any potential resistance later, either. So I hurled myself at what is looking to be a permanent lifestyle change: I now walk around 5 miles most days, lift weights, and eat less than a third of what I was eating before: completely different foods. Since August 2014 I have gone from 113kg to 73-76kg depending on the week.
I was aware this was going to take a long time, and also aware that I am not a patient person. Cowardly, yes; patient, no. And the one thing I know about medical processes is that if you want something doing quickly, you have to pay for it. For which I would need a regular source of income that wasn't in the doldrums. I would also need to not be constantly at the mercy of some spectacular dickheads higher up the food chain one of my seasonal work go-tos, which was also something of a foot in the arse for what happened next: I changed gear, and went after a job with the kind of direction and determination I have, again, never actually managed before.

I got the job.

I passed my probation, which has also never happened before.

I'm good at my job.

Which is weird.
I've actually started looking into savings schemes and planning ahead. For the future. The one that I'm actually convinced I'm going to have now. I've stopped behaving as if I'm going to die tomorrow.
The path hasn't been easy. There have been setbacks, misunderstandings, lost documents – a grim period in which a lack of information from the Passport Office website meant I didn't have the right paperwork and effectively had my passport confiscated, putting me in the same category as people who want to take their daughters abroad for FGM because they hadn't been clear about what degree of medical professional they wanted a letter from. There's been money flying about like the trading floor of a stock exchange. And instead of toppling over the minute things get difficult, as has typically been my wont ("This is hard! I'm not doing it!"), each time I've taken stock, collected advice, asked for clarifications, and attacked the problem anew.
People have been helping. Not just a battery of deeply, deeply appreciated friends, not just the people I live with, not people with a stake in seeing me happy. Doctors. HR managers. Even, once I had the right damn letter, the Passport Office. Who have expressed sympathy and the desire to be supportive. Who have listened to me. Who have, instead of treating me like I don't know my own mind, responded to me behaving like an actual damn adult and saying "I do know myself better than you do, and what I know is that I am not going back on this" by agreeing that I know what I am.
Why blow my own trumpet in such a vulgar fashion?
Because, pathetic as it is, this is amazing to me. After three decades of being a spineless, directionless, worried idiot who lived so constantly with the desire to die or at least not live, I can now make long-term plans; I don't walk around feeling like I'm slowly suffocating. I have things to look forward to. I have determination to make those things happen. I have contingency plans. I am prepared to kick and kick and kick until I get a body I can live in; now that there is a route out of this situation that doesn't feel unreachable, I feel like I have the power to reach for it; now that there's a way out that isn't just "die", I don't want to die any more.
As I told the first therapist I saw about this, I didn't know I could do this. And now… what else could I do? What else am I capable of?
---
Most of the resources online for parents dealing with their children transitioning are aimed at the parents of young children and teenagers. I'd like to think that means that parents are becoming if not more accepting (lunatics and bigots will always abound), then at least better-informed. When I was younger there was none of this, no framing for what I was feeling, and no point of reference. No depiction of trans men in the media or in the books I read that would have given me a handle on how to phrase what I experienced.
Trans men and women before me have fought like crazy to get us we were are now: talking about Caitlyn Jenner's dress and Lana Wachowski's mad sci-fi. Presenting narratives about transgender men and women that don't end in suicide or murder, so that the next generations have something to look forward to, something to hope for.
If it's not too late for Caitlyn Jenner to get her life working the right way for her, then it's not too late for me.
These links are intended for the further education of people who have recently discovered a friend or family member is transgender, rather than for the support or assistance of those who are trying to transition. I also recommend reading the links in the body text.
My Child Came Out As Transgender, Now What?
Transgender advice: the best resources online
Resources for people with transgender family members
Mermaids (for transgender children)
My Daughter, My Son: How School Bullies and State Laws Changed the Way I Saw My Transgender Child
Things Not To Say To A Transgender Person (video, useful & informative, from the BBC)
5 Things Cis People Can Actually Do For Trans People
If Trans People Said All The Things Cis People Said (video)
Terminology
Cissexism
Cisgender privilege
3 Examples of everyday Cissexism (Since genitals do not determine gender, you actually won't know your child's gender identity until they're able to tell you.)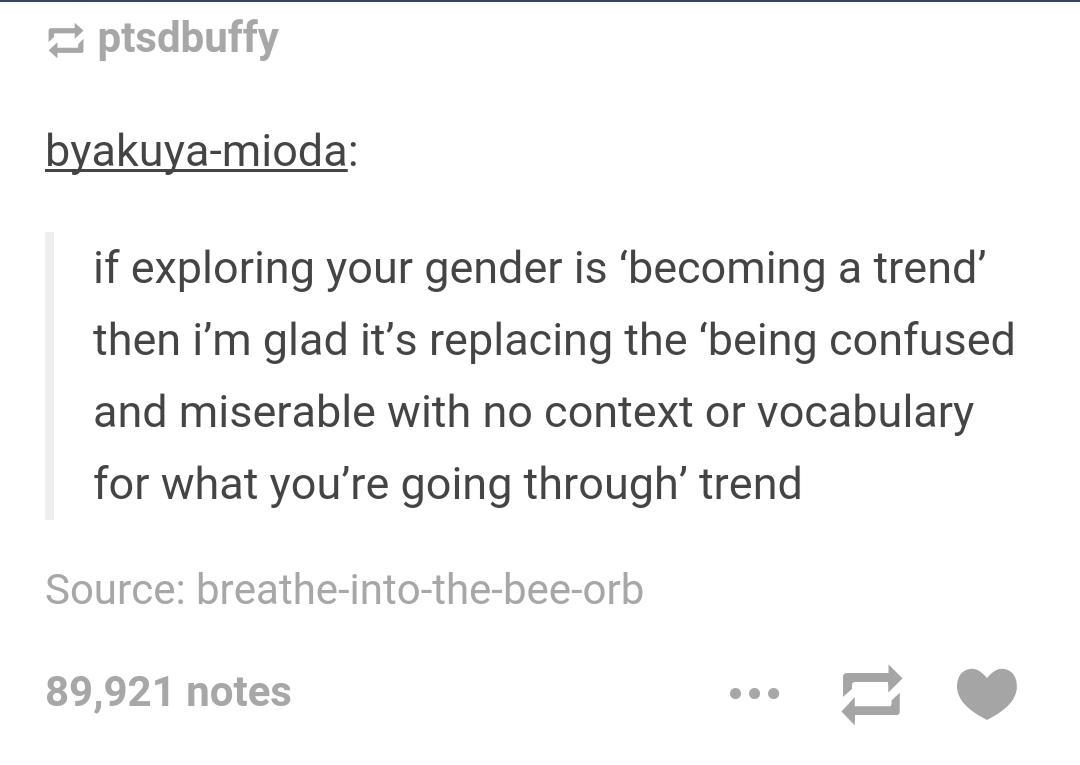 Amen.