Occasionally the internet is too much for me. It's a portal to a special kind of hell wherein lies all the alarming news the world has to offer, sliced into bite-sized pieces for easier consumption, and repeatedly shoved in my eyes by upset/horrified/confused friends who need to make sure everyone else knows how much they don't approve of the current UK administration kicking disabled people in the face or sacrificing babies or deciding to teach children a curriculum entirely made up of skills that are no longer useful with some institutionalised racism on top. The problem with all of this is that while I generally tend to agree with my friends' broad political perspective (we are, after all, friends) and find these things just as lamentable, I also find that once the idea's been introduced it sticks in my head and cannibalises my thought processes and makes me, in a word, ill.
So I fling the laptop irritably in the corner, put on various David Attenborough documentaries, and make stuff instead. It's more expensive than self-harming, but it's also less messy, and I get to play with toxic glue sometimes. Also, David Attenborough.
Anyway, this one took absolutely ages, and while I was making it I learned a lot about how volcanoes work, some of which I already knew and a lot of which is probably out of date as it's from a documentary made in the early 80s.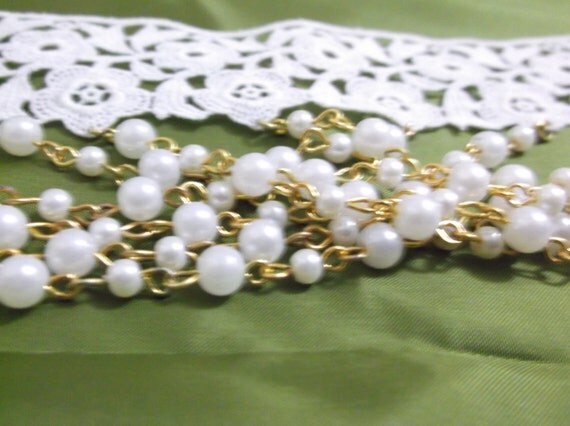 17 and three quarter inches / 45 centimetre vintage lace choker with gold plate findings, gold plate and plastic pearl chain loops.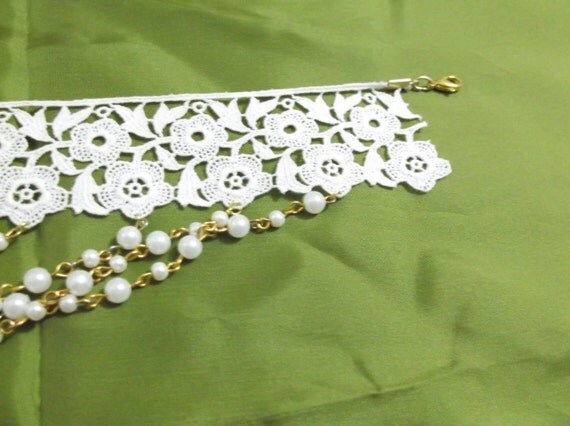 This light, easy-wearing necklace or choker features a selection of plastic pearl chains which weigh almost nothing, and which hang in cross-over loops to create the effect of a sumptuous waterfall in white and gold. Perfect for costuming and for stage or carnival use.